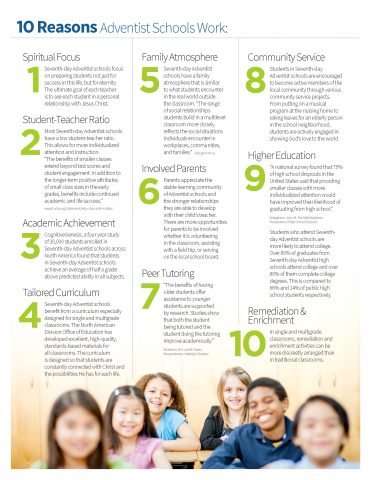 Who We Are and What We Believe
Adventist Christian Academy of Raleigh and the Community of Faith known as the Raleigh Seventh Day Adventist Church that supports it, believe in the complete authority of the Bible as our Guide for our Journey to Eternity in Heaven with Jesus.  We believe that Jesus Christ is the Son of God and that He died on the Cross of Calvary to give us the Gift of Eternal Life.  It is our conviction that Salvation cannot be earned by our personal works but that Salvation is a free Gift that we learn to accept as we accept the Love of Jesus Christ and establish an intimate and personal relationship with Him.  As we grow closer to Him, we use our talents to introduce others to the the Love and Mercy of Jesus as we follow the directive given to us in the Great Commission.  It is our privilege to serve the school, church and community until He comes.  

Mission Statement
The ACA Raleigh family exists to show children Jesus, nurture their love for Him and others, teach them to think, and empower them to serve.

Our Philosophy
The ACA Raleigh is operated by the Seventh-day Adventist Church to provide a spiritually oriented education for children. A belief in the existence of the Creator God is fundamental in the philosophy of Seventh-day Adventist schools. We respect His divine authority and recognize His intervention in human affairs. We believe that true education develops the spiritual, mental, and physical powers of each student; preparing them for the joy of service in this life and for the higher joy of service in the life to come. To achieve this goal, we encourage each student to:
develop a personal relationship with God and his fellow men as stated in Matthew 2:37-39
master the basic academic skills
value labor, physical and mental, as the blessing God intended
cultivate physical fitness, mental ability, and moral purity as the blessing God intended.
The ACA Raleigh operates in harmony with the guidance and direction of the Office of Education, North American Division of the Seventh-day Adventist Church.
 
SAFE AND SOUND VIDEO PRESENTATION
Few decisions are as important -- and potentially life-changing as choosing a school for your children.  In this video you will learn some of the history of Adventist Christian education.  Hear from some of our committed Christian teachers and see how Adventist Christian education provides a quality academic experience in a caring Christian environment.
JOURNEY TO EXCELLENCE SCHOOL IMPROVEMENT  PLAN
ADVENTIST CHRISTIAN ACADEMY aspires to be a school of continuous, assertive and proactive improvement.  The school improvement model that brings Adventist Schools to excellence is known as: 
Journey to Excellence. 
Hear from administrators, teachers, parents and students about the quality academics, strong curriculum and integrated spiritual and moral content of our school.